Do you need a good laptops under 1 lakh 20 thousand? Welcome to the list of Best laptops under 1 lakh 2.0 thousand in Nepal. In this blog post, you will get information about the best laptop available under Rs 120000 After checking this list can help you to buy the best laptop under 120000 in Nepal, and find the best high-performance laptop in Nepal that offers power, portability, and affordability.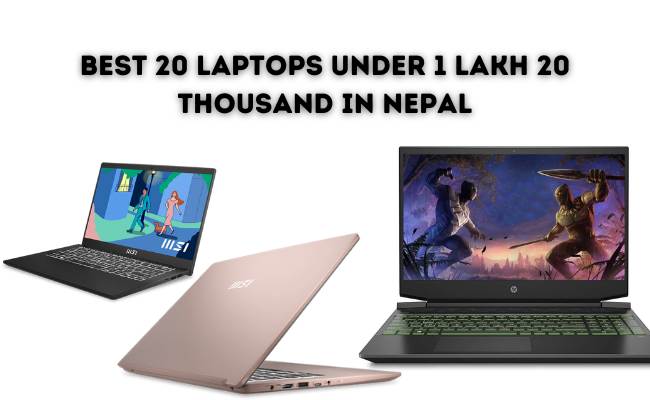 laptops under 1 lakh 20 thousand
Deciding which laptop to buy on a fixed budget can be a challenging task. This article has compiled a top 20 list of some of the best budget laptops under 1.2 lakh in Nepal.
In This Post
MSI Modern 15 A4SX
The MSI Modern 15 A4SX is Powered by the AMD Ryzen 5 4500U processor and complemented by AMD Radeon Graphics, This sleek ultrabook ensures blazing-fast performance. Its 15.6-inch FHD IPS display delivers striking visuals, while 8GB DDR4 RAM and 512GB SSD offer seamless multitasking and ample storage. Weighing just 1.6kg, it's incredibly portable. With Wi-Fi 6 Priced at Rs. 98,000 in Nepal, the MSI Modern 15 A4SX is your affordable ticket to productivity and entertainment.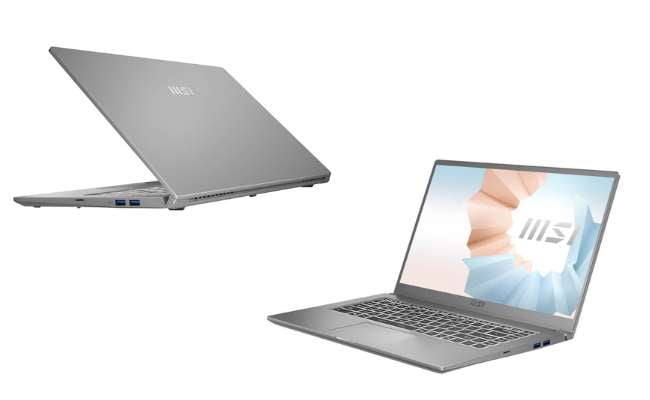 MSI Modern 15 A4SX Specification Price in Nepal
| Feature | Details |
| --- | --- |
| Processor | AMD Ryzen 5 4500U |
| Operating System | Windows 10 Home |
| Display | 15.6-inch FHD IPS (1920 x 1080) |
| Graphics | AMD Radeon Graphics |
| Memory | 8GB DDR4-3200 RAM (Max 64GB) |
| Storage | 512GB SSD |
| Weight | 1.6kg (Approximately) |
| Battery Life | 4-Cell Li-Polymer Battery (52Whr) |
| Connectivity | Wi-Fi 6 (802.11ax) + Bluetooth v5.1 |
| Ports | USB-C, 2x USB-A, Micro SD, HDMI (4K @ 30Hz) |
| Keyboard | Backlit Keyboard (Single-Color, White) |
| Price in Nepal | Rs. 98,000 (Approximately) |
MSI Modern 14 C12M
The MSI Modern 14 C12M A Powerful Yet Budget-Friendly laptop, the MSI Modern 14 C12M Intel® Core™ i5-1235U processor, backed by Intel® Iris® Xe graphics, smooth multitasking With 8GB DDR4 RAM and a lightning-fast 512GB SSD The 14″ FHD IPS display, white backlight keyboard, and slim design enhance the user experience. Plus with a 2-year warranty and a bundled MSI Topload Bag, all priced at just Rs. 92,000 in Nepal.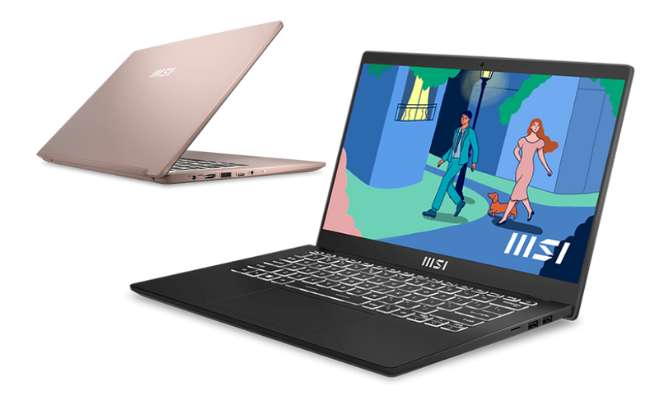 MSI Modern 14 C12M Specification Price in Nepal
| Feature | Details |
| --- | --- |
| Processor | Intel® Core™ i5-1235U, 4.4GHz (max) |
| Graphics | Intel® Iris® Xe graphics |
| Memory | 8GB DDR4 3200MHz RAM |
| Storage | 512GB PCIe® 4.0×4 NVMe® SSD |
| Display | 14″ FHD (1920×1080), IPS-Level |
| Keyboard | White backlight keyboard |
| Battery Life | 3-Cell, 39.3/53.8 Battery (Whr) |
| Weight | 1.4 Kg |
| Operating System | Windows® 11 Home |
| Connectivity | 802.11 ax Wi-Fi 6, Bluetooth v5.2 |
| Ports | 1x Type-C (USB3.2 Gen2/DP), 1x Type-A USB3.2 Gen2, 2x Type-A USB2.0, 1x Micro SD Card Reader, 1x HDMI™ (4K @ 30Hz) |
| Warranty | 2-year local, 2-year international |
| Price in Nepal | Rs. 92,000- Approximately |
HP Pavilion Power 15
Meet the HP Pavilion Power 15 a 10th Generation Intel Core i5-10300H processor and Nvidia GTX 1650Ti graphics, it's designed for performance. The 15.6-inch FHD IPS display with anti-glare technology ensures stunning visuals. With 8GB DDR4 RAM and a speedy 512GB SSD. This gaming powerhouse also boasts B&O audio, a sleek design, and up to 10 hours of battery life. Price at Rs. 120,000 in Nepal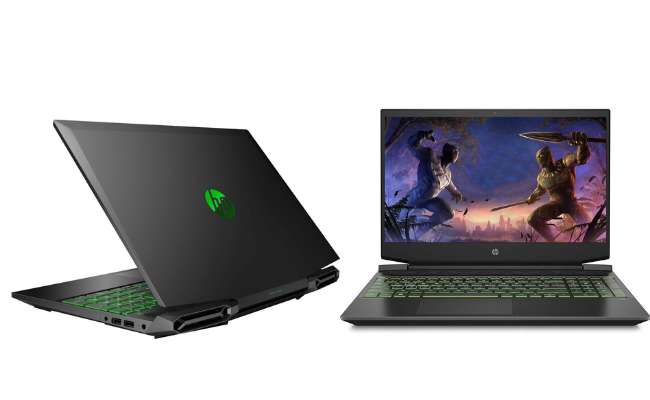 HP Pavilion Power 15 Specification Price in Nepal
| Feature | Up to 10 hours and 15 minutes with an FHD panel |
| --- | --- |
| Processor | 10th Gen Intel Core i5-10300H |
| Graphics | Nvidia GTX 1650Ti 4GB |
| Memory | 8GB DDR4-3200 SDRAM (1 x 8 GB) |
| Storage | 512GB SSD |
| Display | 15.6-inch FHD (1920×1080) IPS anti-glare WLED |
| Operating System | Windows 10 |
| Ports | 1 HDMI 1.4, 1 headphone/microphone combo, 1 RJ-45, 1 USB 3.1 Type-C™ Gen 1, 2 USB 3.1 Gen 1 |
| Wireless | Intel® 802.11b/g/n/ac (2×2) Wi-Fi and Bluetooth 4.2 |
| Webcam | HP Wide Vision HD Camera with dual array digital microphone |
| Audio | Bang & Olufsen; Dual speakers |
| Battery Life | Up to 10 hours and 15 minutes with FHD panel |
| Weight | 4.78 lbs (Approximately) |
| Price in Nepal | Rs. 120,000 (Approximately) |